The economist's perspective on integration
According to Gartner, integration constitutes 50% of the costs in IT projects, for example when launching e-commerce or introducing a new business system. These are figures that I am convinced that you, as a CFO, have rarely seen specified on invoices before. In this post, I (who am also an economist) will try to give you a business perspective on integration, and go through what you can do to both cut costs and promote growth.
Integration and automation can be experienced as complex and a bit unwieldy. When buying a new kitchen, it is of course more fun to choose cabinet doors and oven model than to discuss how the plumber or electrician should run the pipes and cables behind. At the same time, it is inevitable that you have to start turning over stones in order to implement a change.
For example, to get your business system to talk to the CRM system so that you don't have to maintain data in two places, or to let a shopping-hungry customer easily see sizes, stock balance and prices in an online store in real time, seamless communication between different systems and apps is required. What if the web temporarily contains incorrect prices and you are responsible for the day's sales falling by 50%?
Data is valuable, and with a well-ordered IT structure, your data is handled more securely while you open up to digitization and process automation, which makes you nimbler and more profitable in the market.
"But we have just procured a business system for several millions that contains everything we need. If connection with other systems is required, there are plenty of APIs that we or someone else can integrate with. Super easy, right?"
What if the web temporarily contains incorrect prices and you are responsible for the day's sales falling by 50%?
There are great business systems out there that understand their customers. They are often "open" and want to communicate with other applications because they realize that they themselves cannot provide all the functionality in, for example, an online store. The fact that there are APIs available is a great help along the way, but it should be added that an API is not automatically adapted to your particular e-commerce solution or your checkout system. In fact, it's easier than ever to paint yourself into a corner, and become dependent on consultants who love lines of code and creating point-to-point integrations ("digital spaghetti") between systems. Business integration should not have to include expensive hourly rates and 50% of the cost of a new application!
With an integration platform as a hub in your ecosystem, it becomes the very engine that drives your integration and digitization journey. It enables significantly faster IT projects thanks to the fact that much of the integration work is already done (you can reuse previous integrations, and only need to manage the integration against the platform itself instead of all the systems involved).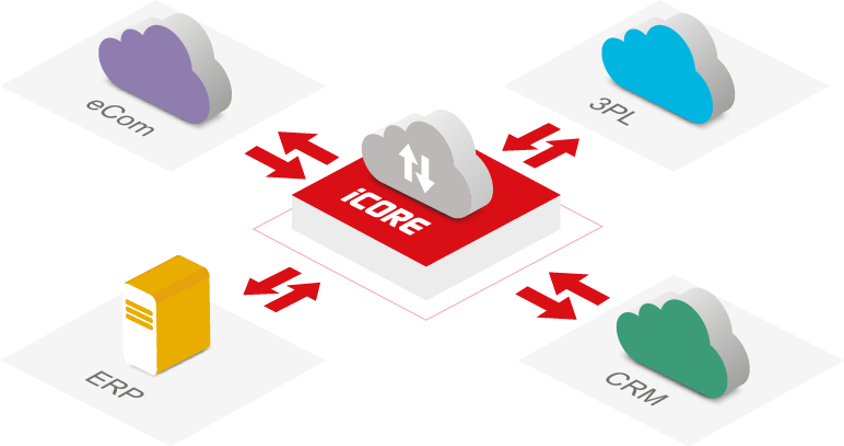 A simplified view of integration platform one's role in one e-commerce scenario.

Don't fall into the API trap! Business integration should not have to include expensive hourly rates and 50% of the cost of a new application!
Replacing existing systems, or plugging in new ones with complementary functionality, therefore does not require major resources, which means that you can change and automate manual processes faster and easier. It is no longer sustainable to have to pay for the "same" integrations with every system change and automation!
It often involves creating robotic order and invoice flows that in some cases replace large amounts of manpower and increase sales. Other companies use an integration platform to automate their inventory or to communicate with acquired companies and their systems in an efficient way. The most innovative companies use a platform for all forms of digitization, RPA (Robotic Process Automation) and process changes in the business and combine IT with great business benefit. Regardless of whether the business takes place digitally or in physical premises.
Why should you have to pay for the same integrations over and over in every IT project?
Investments in integration are often "medium to long-term", but with the right preparatory work and technical conditions, it is easy to calculate the ROI. In fact, our customers have an 80% lower TCO with us as a partner and our cloud-based integration platform compared to traditional solutions.
It's not always easy to grasp the technology behind everything, I know that too. But with the right mindset and an interest in digitization, there are opportunities to implement major changes that will positively affect your business for a long time to come. Automation and business integration are important pieces of this puzzle, where you as a CFO can play a crucial role.