iCore and M3CS – working together to make integration easy
IT consulting firm M3CS, a leader in ERP implementation and digital commerce, uses iCore products and services to help clients adapt and thrive in a rapidly changing digital landscape.
- iCore's greatest strength lies in the product's preconfigured components, which save us and our customers a lot of time - both in the implementation process and when adding new components, says Christer Söderlund, integration architect at M3CS.
M3CS implements, maintains and develops business and IT solutions, helping customers become more profitable and competitive.
A well-structured IT architecture saves both time and money
Using an integration platform creates the foundation for a well-structured IT architecture which makes it easy to connect various parts of the enterprise – from order placement to ERP, CRM, inventory and analysis. It reduces the need for manual labour, eliminates errors caused by the human factor, and makes monitoring easier.
– We often work with companies that have recently started implementing new platforms. The preconfigured components in iCore Integration Suite make implementation, upgrades and changes easy. It saves our customers a lot of time and money.
A rapidly changing digital landscape creates challenges for many businesses. For example, the current average lifespan of an e-commerce system is only three to five years. Replacing systems is often an arduous, time-consuming and expensive process which can affect the entire organization. Having access to a central integration platform makes it easier to implement new systems and make changes in existing ones, resulting in lower costs.
– After a successful integration, our customers can for example set up a new supplier in their ERP in a couple of hours, a process that would otherwise take three to four days.
Every customer is unique
Columbus works with some of the largest companies in the Nordic region and have experience from a wide range of business solutions, including Infor M3, SAP and Microsoft Dynamics. For an integration solution to be effective, it needs to be tailored to the unique needs and requirements of each individual customer. It also has to work independently of which ERP or e-commerce system the customer is using.
– Together with iCore we create custom-made integration solutions. The customization exists on many different levels, for example providing the customer with ways to connect to different web servers and setting up custom monitoring, alerts and messages. Having a dedicated tool for integrations also means that our customers are less limited by the shortcomings of their other systems
Easy upgrades and implementation
When you use a central system integration solution, the different modules become less dependent on each other. According to Christer Söderlund, this has several benefits.
– When you integrate your systems in the right way, it becomes easy to implement new versions. iCore is really good at making components of different versions work together, and this makes upgrades for our customers especially easy.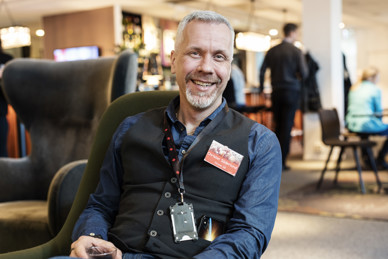 Christer Söderlund
Current role: Integration architect and senior consultant at M3CS
Previous assignments: Columbus, iStone and Lawson.
Lives: in Linköping